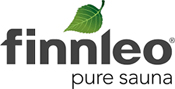 If you prefer lower temperatures but with body-penetrating heat, far-infrared sauna may be your best sauna choice. In a far-infrared sauna, the heat waves penetrate the body to effectively heat the body and raise the body core temperature. To achieve this increased temperature, Far-infrared emitters create infrared energy which is close to the same wavelength as that which the body naturally emits—often referred to as the "Vital Range" of 7 to 14 microns), so the energy is well received by the body.
Infrared B810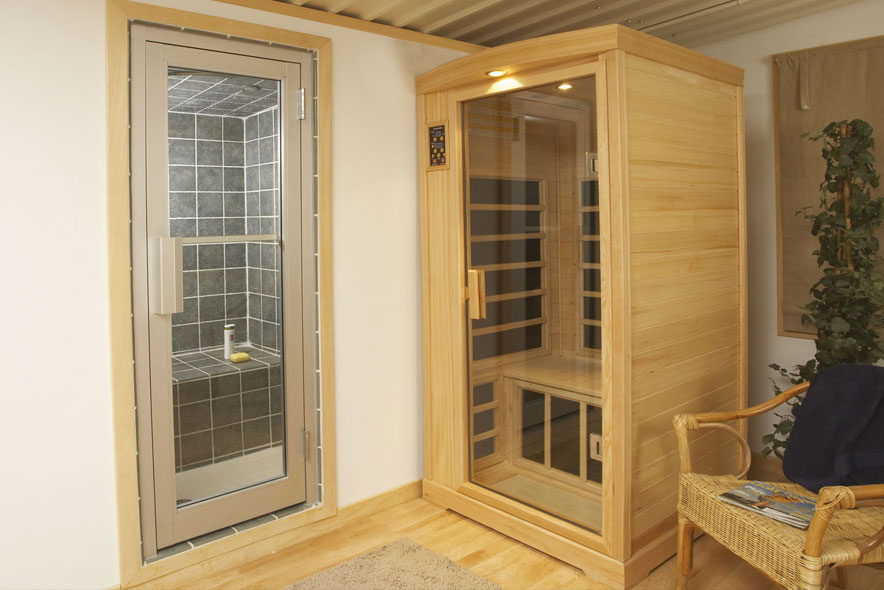 Measurements: 36"d x 36"w x 75"h (40"d w/overhang)
Ideal for those with minimal space or using their sauna solo, the Model 810 has a foot print of only 9 sq. ft. With all the Premium Line features, same luxurious features as larger models but is packaged as our smallest model. This model can be installed into a corner of almost any room.
Infrared B820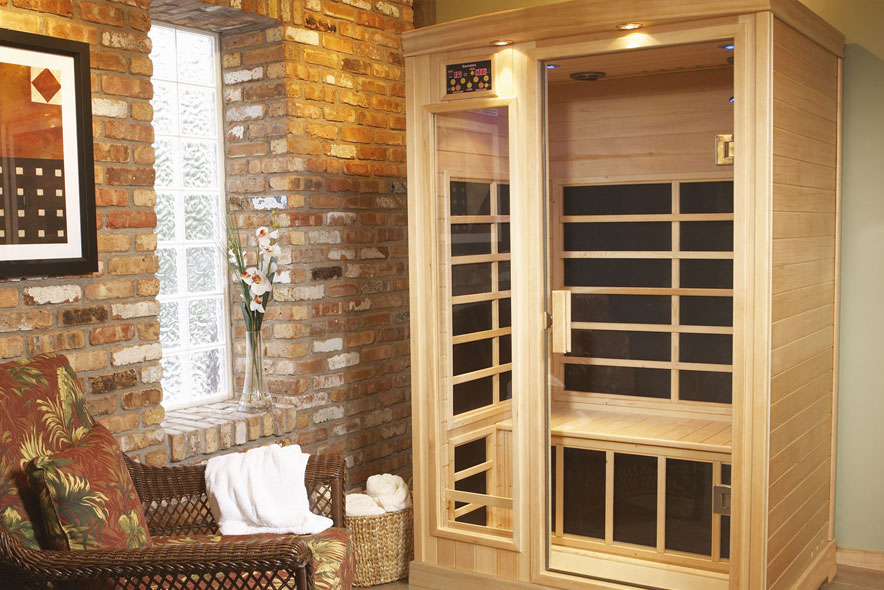 Measurements: 40"d x 48"w x 77"h (44"d w/overhang)
One of our most popular models, this model is a diminutive beauty. Perfect for one or two people, with its footprint of less than 16 sq. ft., this IR sauna can be easily incorporated into an in-home workout area, master bath, even in the master bedroom.
Infrared B830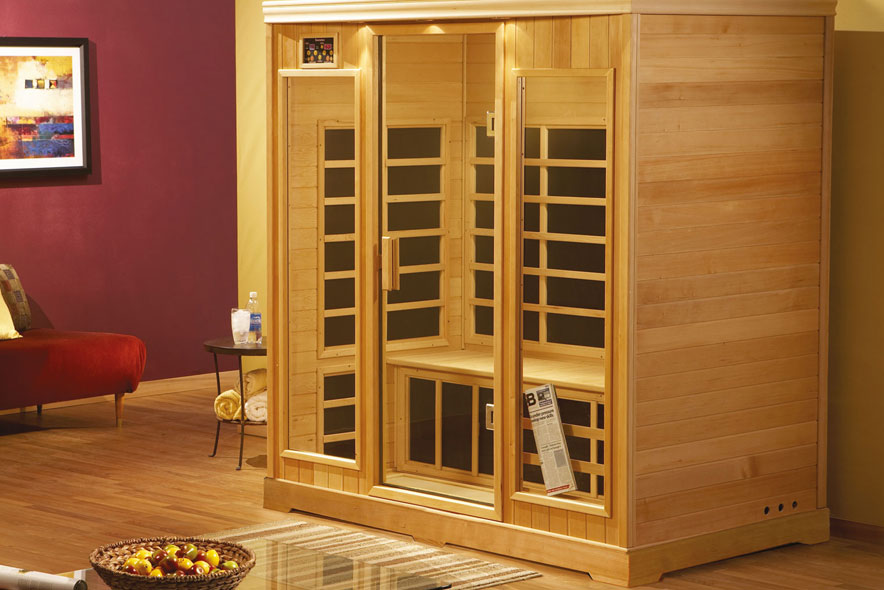 Measurements: 44"d x 72"w x 77"h (48" w/overhang)
If you like to lie down in the sauna, this is the model for you. This rectangular model comfortably seats three, but the 6' width also makes it comfortable for lying down. With two large sidelight windows and a large door window, the room has an open yet intimate feeling to it.
Infrared B840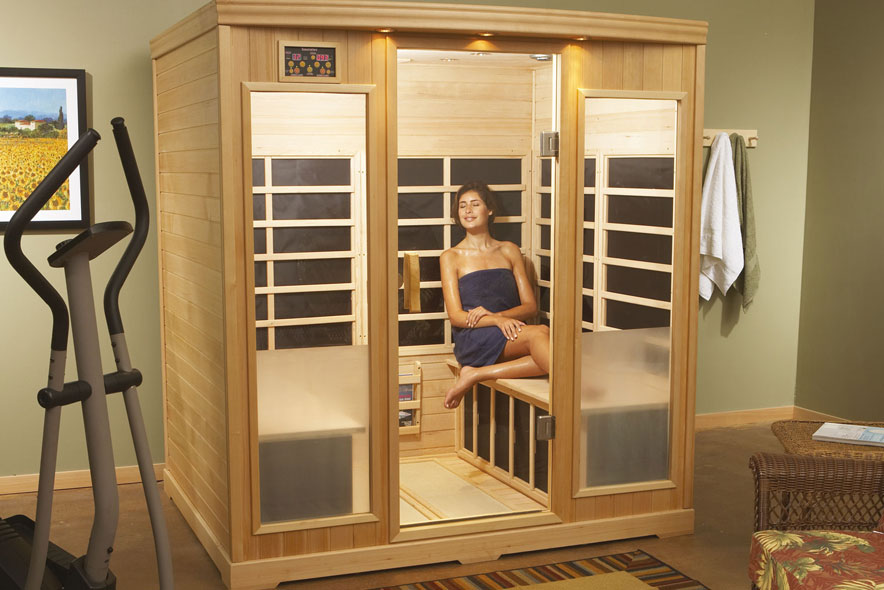 Measurements: 56"d x 72"w x 77"h (60"d w/overhang)
Classic European design, this rectangular unit offers amazing spaciousness, comfortably seating four (or more). Two large sidelight windows include frosted/etched glass on the lower portion to discreetly hide the bench ends and to add a touch of elegance to the sauna design.
Infrared B880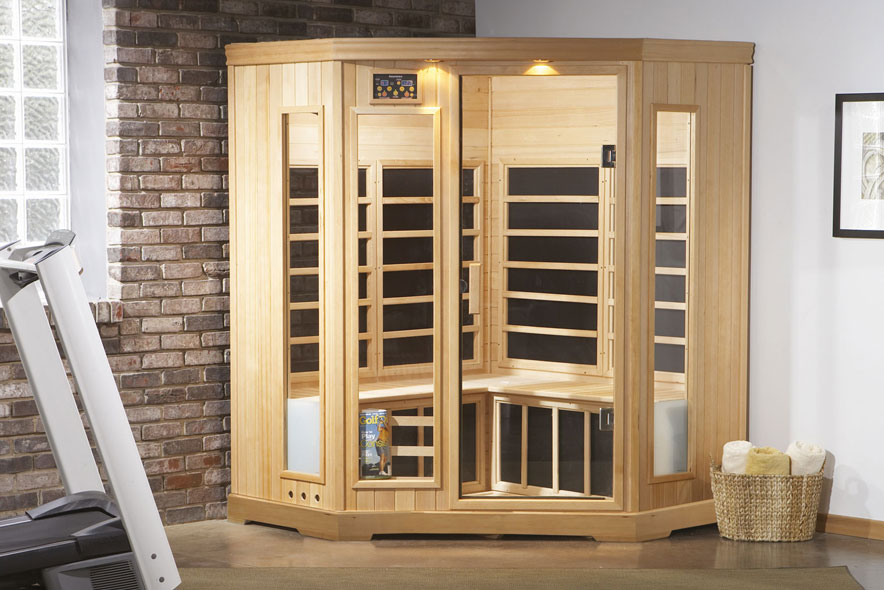 Measurements: 60"d x 60"w x 77"h
Our most luxurious model in the category, the B880 is a neo-angled beauty. A three-sided front with large panoramic windows makes this as beautiful to look at as it is to enjoy the soft heat inside. Comfortable seating for four, its L-bench design is ideal for intimate conversation with friends and family.